CORPORATE GOVERNANCE
Corporate governance structure made up of General Meeting of Shareholders (AGM), the Board of Commissioners and the Board of Directors refers to the Law of the Republic of Indonesia Number 40 of 2007 on Limited Liability Companies. The three authorities elements of the Company are set out in the Articles of Association of the Company.
AGM
In particular, the AGM has the full authority not shared by the other constituents. The shareholders are entitled to voicing their opinions and contributingto the decision making process and strategic matters.
Board of Comissioners
The current Board of Commissioners composition consist of 1 Chairman, 2 Commissioners, and 2 Independent Commissioners. In carrying out the task of overseeing the Company's operations, the Board is assisted by three Commissioners Committees namely:
All members of the Audit Committee are independent professionals and has met the conditions set out in the Bapepam-LK (now OJK) No. IX.I.5. The composition of Audit Committee is as follows:

In carrying out their task, the Audit Committee follows Audit Committee Charter of PT Samudera Indonesia Tbk.
Nomination and Remuneration Committee
The Nomination and Remuneration Committee is responsible in assisting the functions and duties of the Board of Commissioners regarding Nomination and Remuneration of the Board of Directors and the Board of Commissioners members. The composition of the Nomination and Remuneration Committee as of is as follows: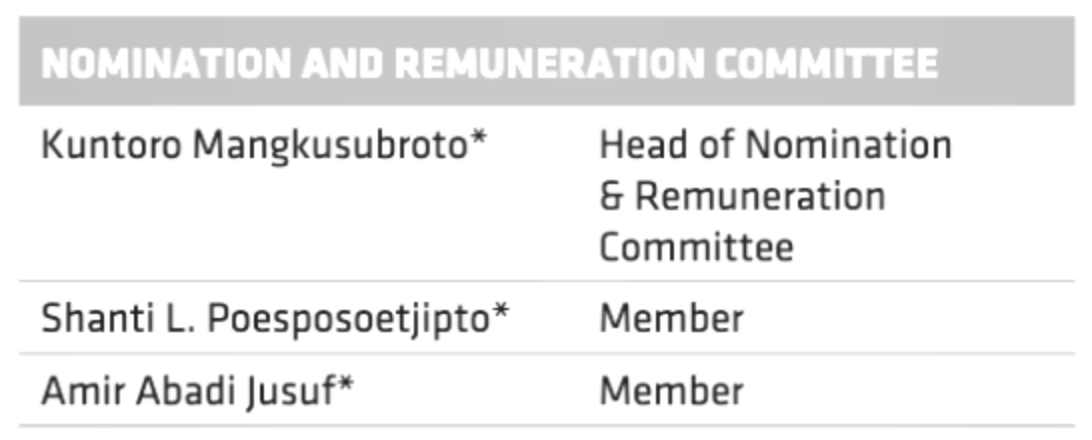 Corporate Development Committee
Corporate Development Committee is established in the framework to implement good corporate governance as well as to enhance the performance, and to expand Company's business. The composition of the Corporate Development Committee as of December 31, 2017 is as follows:

Board of Directors
The Board of Directors is fully responsible for the achievement and safeguarding of The Company's interests and objectives in accordance with the provisions of the Articles of Association. The Board of Directors is responsible collectively in managing the Company in order to generate benefit and ensure business continuity. The term of office of every member of The Board of Directors is set for 5 (five) years and may be reappointed. The Company's Board of Directors consists of three directors to include 1 (one) President Director, 1 (one) Director, and 1 (one) Independent Director.